The power and reach of Comic Conventions
Cosplayers and conference goers are getting ready for the upcoming Comic-Cons as many of the country's largest comic-based conventions in major cities like San Diego and New York are gearing up for their openings. Comic Conventions have been able to expose and magnify trends, bringing to light fashion, memes, and content that just would not have gone viral without them. In Hawaii, what started as a singular comic convention (Kawaii Kon) some ten years ago, today we find no less than 6, each focusing or dedicated on a different aspect of pop culture; be it movies, tv shows, comics, games, fashion or collectibles. Overall, it's a remarkable growth for these very specific conventions as comic conventions have grown over the last twenty years by more than 25 major conventions, expanding comic conventions' reach and influence throughout the country.
Many comic conventions throughout the country have areas where artists display and promote their work and comic book sections where comics and artists that are unknown are able to feature and promote their works. In general, hundreds of thousands of visitors throughout the vast various comic conventions in the United States are exposed to artists, vendors, brands, entertainment, information, books, comics and more; all content they would not normally have gotten exposure to.
The power of Cosplay
One of the biggest fashion trends of the past few years has to be 'cosplaying', or the practice of dressing up as a character from a popular or obscure movie, book, comic, game or TV show. It's become so popular that 'cosplay' has itself become a verb and millions world wide go 'cosplaying' at popular events like comic conventions, at theme parks, movie theaters for premieres and parties. Cosplaying has become popular with all walks of live and there's no restrictions on who can dress up and participate. At comic conventions it's equally common to see whole families, including young children dressed up as it is to see people well into their 90's, dressed up in thematic attire. The advent, popularity and relative cheapness of 3D printers and the availability of sewing patterns has meant that cosplaying is available to just about everyone. For most cosplayers it just takes time and effort to turn themselves into their favorite real or fictional character.
Cosplaying is a growing market and one where people make money, whether from creating files necessary for creating costumes or working with corporations to advertise a product or service while cosplaying at a convention or event. Hundreds of professional cosplay 'experts' take over comic conventions each year, showcasing their perfectly replicated costumes and typically near perfect physiques, pausing and posing for pics while simultaneously handing out or showing gear and ads from their sponsors. Many of these professional cosplayers are extremely popular on social media, with a sizable portion of them posting videos of the making of their costumes, putting on their costumes or making videos with detailed instructions on how to put on makeup or fix hair in order to become their cosplay characters.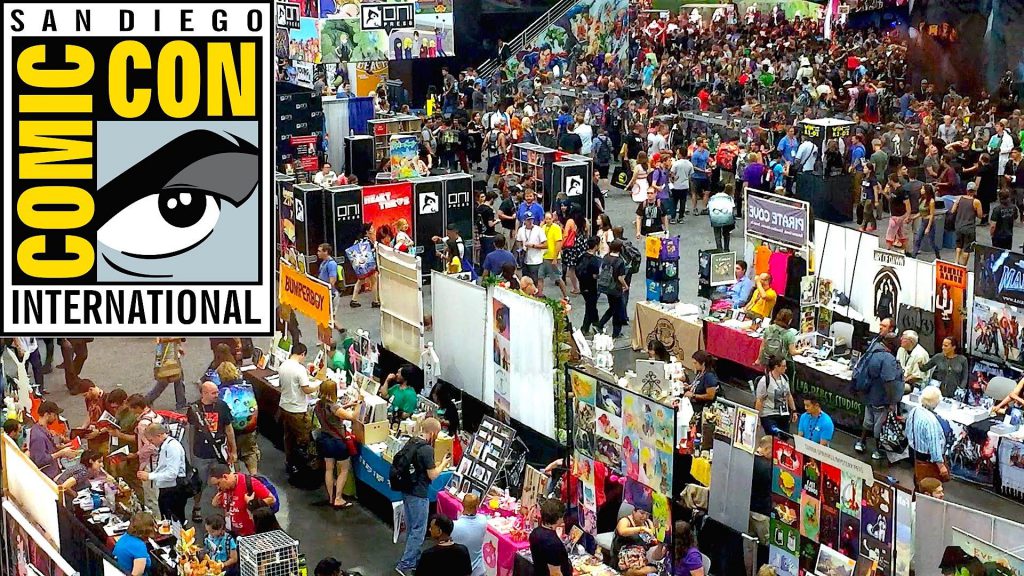 Cosplay as Art
More venues are now focusing on displaying photos. Examples and complete works from cosplay artists that have typically only previously received attention and exposure from comic based conventions, like this photography exhibit at Pellissippi State and the recent Art of Cosplay Exhibit at the University of Manitoba, provide great insight into the huge universe that is cosplay today. These exhibits describes cosplay as a sort of ultimate form of wearable art that seeks to showcase it as a legitimate artform by displaying cosplay through scenes of action and images from collaborations with local prominent photographers, offering viewers a truly visual, personal experience, deeply exploring what cosplay is and what it means to those who cross their paths at conventions.
The numbers show just how popular these conventions have become. More than one and a half million tweets discussed comic conventions in 2018's San Diego Comic-Con. More than 37,000 instagrammers took part at the convention last year. Their posts received well over 2 million impressions, reaching hundreds of millions of people. Conventions are absolutely huge events and these social numbers point to just how active and popular these events are. Well over 100,000 focused hashtags were used and #SDCC Instagram users tweeted from more than 100 countries. An average of 125,000 images were uploaded to Instagram for #SDCC related hashtags with a major portion of those images being cosplay related.
Technological advancements help move visitor convention experiences into the future
Live event management from comic conventions has become more structured, planned out and modernized over the past few years. The latest technological advancements implemented at these conventions have increased order, more security and control while providing event goers a more interactive experience. Advancements include better solutions for ticketing, access control, scheduling, feedback, booking and payment. Many conventions now use RFID-enabled badges to collect data, allow for real-time accommodation of visitors and better understanding of attendee behavior. Sponsors and large exhibitors are increasingly using virtual and augmented reality, gamification, mobile apps and other cutting-edge digital technologies to create amazing, futuristic experiences for convention goers and general visitors. While the bulk of these individual technologies were first demo'd or became popular via other venues (i.e. CES in Vegas) the general usage of and acceptance at large venues first came about because of comic conventions. This technology has now filtered not down but actually up to other large types of venue performances from major recording artists, sporting and gaming events and even Broadway shows.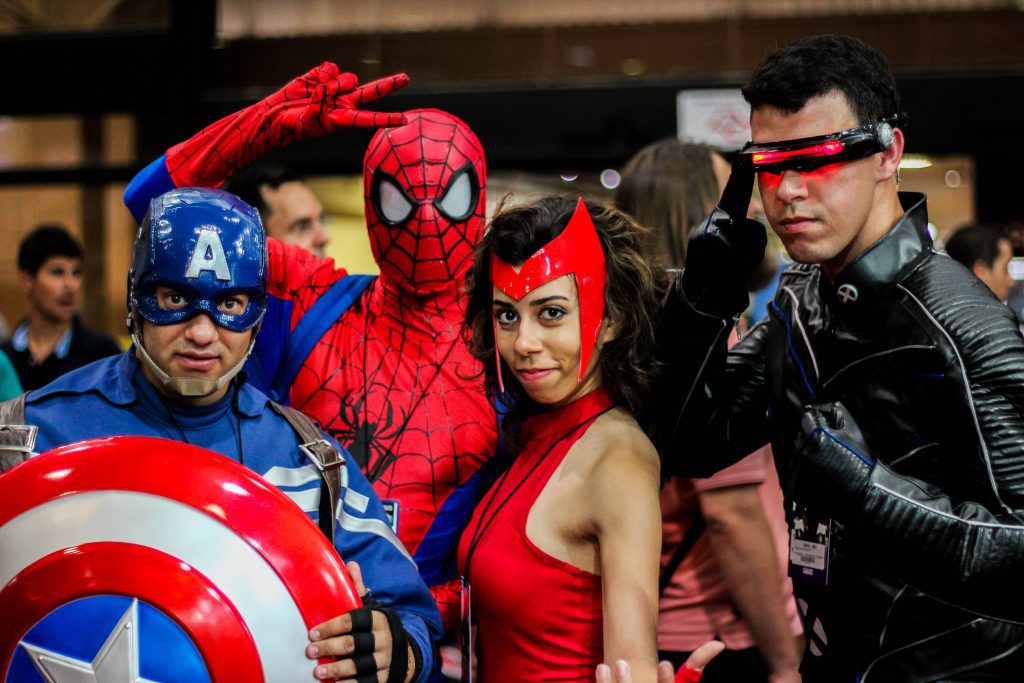 Artists and content creators are using advanced technological platforms for promotion and advertisement at comic conventions
The Twitch streaming service recently expanded their available categories to include several specifically used by artists typically found at comic conventions today. Artists are now using networks like Twitch to promote other shows, art exhibits, upcoming music and movie releases and most notably upcoming appearances at comic conventions. Just a few years ago you would never expect to see virtual reality products, cryptocurrency, blockchain sessions and hyper futuristic robots at conventions. Today, those are just a few of the things you'd see and now consider normal. Advancements in robotics, AI, virtual reality and more can be experienced first hand at events like FutureTechLive!, a regular hub and now official event at Comic-Con in San Diego. Manufacturers of hardware and software now use conventions for major product and software updates and announcements for new products. The hub will now also feature art exhibits including VR art, possibly paving the way to eventually see similar exhibits in actual museums one day.
Show me the Money
Conventions bring in money to the local community also. The majority of fans at comic conventions spend anywhere from $100 to $500, not including admission tickets, lodging, food or parking. Most attendees frequent more than one comic convention per year and many are repeat attendees, and are much more likely to attend the following year. Most conventions continue to grow in visitors each year. The San Diego Comic-Con's attendance numbers were around 126,000 in 2008 while in 2018 that number was well over 130,000. Others conventions like the New York Comic Con sold more than 250,000 tickets to convention goers this past year, an increase of more than 100,000 compared to numbers from just 5 years ago. New York estimates that those convention visitors also brought in to the city over $140 million, making the New York Comic-Con one of the most profitable conventions for the city.
So, what are visitors spending with their money? Money is spent typically on collectible items, toys, comics and other convention popular items. Items that become truly popular at conventions are often shared and uploaded as social media posts and images, increasing exposure for the products and gaining notoriety for artists. So, it's not surprising that many book, tv, movie, toy, clothing and tech companies specifically plan on product releases around one or more comic conventions as conventions offer virtually free advertising, great word of mouth opportunities and the possibility for having a product or service go truly viral. Deadpool, the movie, is infamous for getting it's official start at conventions. The brain and love child of actor Ryan Reynolds, Reynolds wanted to make a movie version of the beloved Marvel superhero for years. It was only after the 'test footage' he made with a team of graphics artists at Fox Studios leaked, going viral on the night before the final day at SDCC in 2014 that word of mouth and buzz at the convention in San Diego spread quickly and widely enough for the movie studio to finally take notice and agree to make the film. Within 24 hours of the footage being leaked the movie was greenlit. Much of Ryan's and Deadpool's success can be directly attributed to the response convention goers had to the leaked footage.
Comic conventions are now being used more and more as vehicles and venues to announce and release new books, games, tv shows, movies, and more. Many panels that can be seen at the more popular comic conventions usually feature exclusive content, products and services that are not and will not be available elsewhere. Many feature panels of actors, artists, performers and celebrities where conversations and Q&A sessions happen that typically have moments that get posted and shared on blogs, social media platforms and news outlets. Combined with the power that these conventions have with social media posts, cosplayers, artists and venues, comic conventions are a pathway for many to fashion, culture, technology and entertainment.
Going to a Comic Convention this year? Be sure to check out the wide range of comic-con related products at Overnight Prints: overnightprints.com/comiccon.
COMIC-CON FESTIVALS FROM AROUND THE WORLD
INSIDE LOOK: CARTOON FAN ART THAT SELLS AT COMIC CON