Spring break is quickly approaching, and it's better to prepare sooner rather than later. This time of year brings in many visitors and customers to the Strip and surrounding areas. It's a paramount time for Las Vegas nightlife and restaurants; it can either bring success or failure. Having the right marketing that embodies the time and season is key.
There are really no limits in the city of sin, and the same goes for marketing here. As long as your strategies are constantly refreshed, new and current, you're on the right track. As we leave winter behind, we turn into the bright, sunny days of spring. Drop the darker colors and replace them with hues that burst with energy. All visitors are coming to enjoy the warm weather and beaming rays of the sun. Visually appeal to their senses with stunning pieces that instantly transport them to paradise. Paradise, Las Vegas that is.
Warm weather brings long, relaxing days by the pool. Consider updating your poolside menu with a premium 11″ x 17″ brochure in tri-fold, Z-fold or bi-fold. It's a very durable and substantial product that can bear the heat. There is something for every type of menu, no matter how short or how long.
All brochures come with full 4:4 printing that can turn any dull color into a radiant one. This is a huge time for Las Vegas pools. Every guest is coming to finally warm up after a cold winter. Now is when you should not only think about updating your menu, but doing it in complete style. Intrigue your guests to buy just by displaying what they "want to see."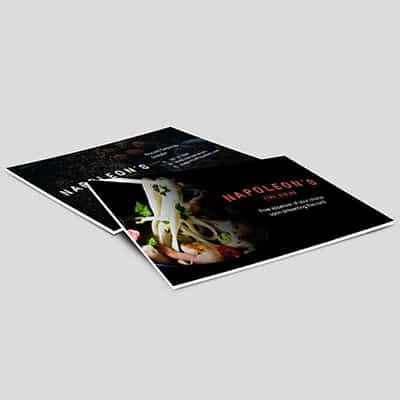 Fine dining can also take advantage of what is coming. Spring break means customers pouring into Las Vegas, and they only want the best when they arrive. Show potential customers your exquisite taste and spark their interest. Opt for 3 .5″ x 2″ FAT Business Card to send a message of luxury quality and upscale dining. This card exceeds expectations and captures attention without hesitancy. Made with over twice the thickness of our Standard Business Card, this card is at 34pt stock! It's elegantly substantial, with just the right amount of thickness and weight.
Consider using double-sided to give off a "complete" look. On the front of the card should be the name of the restaurant, location and contact. The back of the card is entirely what you desire. Place a discount offer or simply your logo on a clean background or vice versa.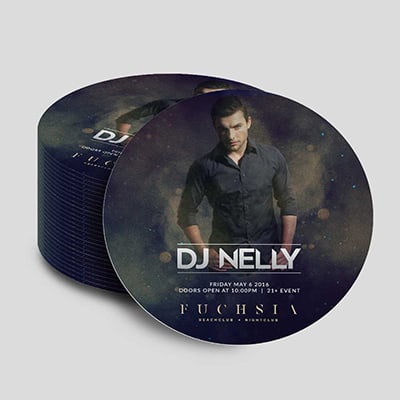 This last product is what Las Vegas is known for, and that of course, is our nightlife. With so many astonishing mega clubs, it quickly has turned into a competition. If you want to surpass your competitors, all the details add up. Just like fine dining, the nightlife of Las Vegas is meant to be luxurious and extravagant. To uphold the standard, every aspect of what your club represents has to be incorporated into your marketing tools. It is recommended to go with 3″ Circle Fat Cards – it's not too big and not too small. It also has a very unique shape and look that can really get customers' attention.
It also has the thickness of a FAT card, which means you're still getting that 34pt card stock. It will never look or feel flimsy or of cheap quality. When you see most people promoting their nightlife, they use products that look cheap. This can turn quickly into a negative perception with customers. If you want more customers you have to sell "Vegas." This means everything you do must be glitzy and beyond exception.