You've heard of the elevator speech.
That's when you have from 30 seconds to one minute to pitch your organization, your product or yourself to a policy maker, venture capitalist or potential employer.  It may not occur on an actual elevator.  But savvy CEOs, entrepreneurs and salespeople commonly practice their elevator speeches and use it in business and their personal life.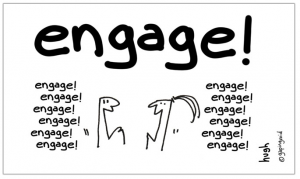 A business card is like an elevator speech, except you only have about 3 seconds to define yourself and your value proposition.
Three…seconds.  Probably less time than it took you to read the preceding paragraph.
And in those three seconds you have to convey who you are and what you stand for.  A tough assignment.
Most business is still conducted face-to-face.  If you fail at the moment you hand someone your business card, the consequences can be dire.
Most business cards are pretty boring.  They don't have to be.  How do we communicate something serious in a way that is memorable yet whimsical, makes a point but isn't frivolous?
Cartoons.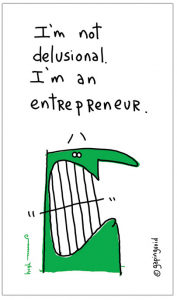 A cartoon is a very effective means of communication.  It makes an instant impression.  Gapingvoid business card cartoon art is designed to open doors and initiate a conversation with people.  Face-to-face.
Use a cartoon to make that first impression.  You might not get a second chance.
Choose a cartoon and add personal details to create your own gapingvoid business card.
–BR