Is your small business ready to celebrate St. Patrick's Day? Successful holiday marketing takes planning (and a wee bit of luck) to capitalize on a holiday known for green beers, magical leprechauns and shenanigans. Consider these 17 marketing ideas to turn a "pot o'gold" promotion into profits.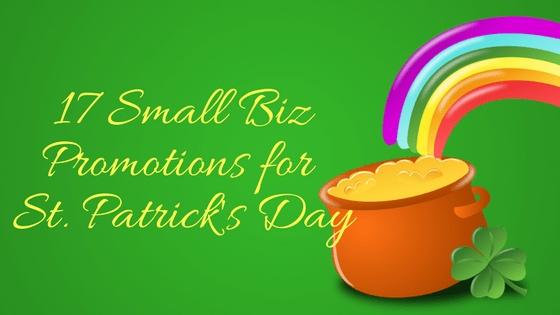 Offer $17.00 off to the first 17 people who purchase on March 17th.
Advertise the promotion early with bright green marketing flyers. Don't forget to tease the "Shamrock Day" special on your website and social accounts leading up to the day.
Rent a photo booth.
Fill the photo booth with St. Paddy's Day-themed props, like leprechaun hats and beards, green bow ties, funny glasses and wigs for a fun photo day. Have guests check-in on social media and post the images to receive an extra discount for same-day purchases.
 Share an Irish Blessing.
Run a postcard promotion for an extra 17% off with a traditional Irish blessing, such as this one:
May the road rise up to meet you
May the wind always be at your back
May the sun shine warm upon your face
and rains fall soft upon your fields.
Host a Shamrock search game.
Hide or camouflage shamrocks in your store, on your website, in your email marketing and/or your Facebook business page for customers to find. Present a prize, like a gift card or store credit, to the first three who can identify all of them.
Advertise an oversized Pot O' Gold promotion.
Promote an offer for 17% off the entire store before St Patrick's Day with an additional 10% off on March 17th for those who bring in their jumbo mailers containing a promo code.
Most spirited leprechaun.
Have customers email or tag photos of themselves using your product while wearing green. Offer a free product or service to the most creative entry.
Gift customers with Shamrock themed giveaways.
Add your logo and contact information to keepsake items like magnets or coasters that will extend your exposure well past the holiday.
Hold a lucky drawing
Have customers sign up for a raffle to receive a free product or service. This is a great strategy for collecting new leads and gaining email subscribers.
Give away green beer or treats all day.
Show customer appreciation while enhancing brand awareness with green beer, cupcakes, cookies or other fun treats.
Help customers avoid the pinch.
Get customers of all ages into the holiday spirit with a fun giveaway that keeps them from getting pinched, like temporary shamrock tattoos or green-colored beaded necklaces.
Give the gift (certificate) of gold.
Offer a bulk sale to promote your green products. Products could be green in color or made with environmentally-friendly materials, like recycled paper print products.
Green with Envy group sale.
Print rack cards or bookmarks as gift certificates ahead of the holiday for customers to gift to family and friends. Use this strategy to build referral business.
Promote a four-leaf clover discount.
Run a "Lucky Shamrock Sale" – customers who buy three or more products get the fourth item free.
Run a "Feeling Lucky" social contest.
How about a social contest where customers tag your business and let you know how they're feeling the luck of the Irish? Award the best entry with some customer love, including free products and a feature on your website.
Use St. Paddy's Day hashtags and emojis.
Expand your reach on social media by including St. Patrick's Day hashtags and four leaf clover emojis with each of your posts. Here are a few hashtags: #StPatricksDay, #StPaddysDay, #Shamrock, #Leprechaun, #LuckOfTheIrish.
Partner with local businesses for a wee bit of fun.
Gather a few neighboring businesses for a contest. Each store will have different colored bookmarks for customers to collect and redeem for a prize at the "end of the rainbow."
Quiz customers with a trivia contest.
Take to Facebook or Twitter with St. Patrick's Day trivia questions to see who has the most Irish pride. Have followers send a private message with the correct response to receive a promo code.
For more small business marketing tips and trends, subscribe to blog.overnightprints.com