9 Best Social Media Platforms for Promoting Your Small Business in 2019
The online internet map is riddled today with tons of ways to effectively and ineffectively promote a small business. With the small business owner in mind, in this article we wade through the most popular, user friendly and most powerful social media platforms for advertising, promotion, customer retention and management on the market today.
Facebook
Facebook has been around since almost the very beginning as far as social media platforms are concerned. Founded by the trio of super young entrepreneurs Mark Zuckerberg, Eduardo Saverin, Andrew McCollum, Dustin Moskovitz and Chris Hughes, Facebook is the global focal point of all of what is considered to be social media. Facebook allows any of its over 2 billion monthly users to post interesting content, message friends, chat with others in a real-time environment, catch up on the latest gossip, share videos and more. Using Facebook is easy and straight forward and makes it simple to create a profile, upload photos, maintain albums, create and manage fan, group and business pages.
How can Facebook be used to market for small business owners?
Facebook has long been in the lime-life and is well known as a hub for small business users to reach out to new customers, manage existing customers, and find potential customers. While Facebook does have a reputation for being somewhat difficult to advertise on as a platform, having a plan of action and dedication to the platform means your business will more often than not see positive results. Reaching out to your customers on Facebook can be somewhat a daunting task as it's common for your posts to get lost in the fray of all the others. If you are directly advertising using Facebook posts, be sure not to make your posts obvious advertisements. It's much more beneficial to post content that invites feedback and looks like original content. Posting direct promotional content may trigger Facebook's algorithm which will then hide your content. Take advantage of Facebook's Content Calendar in order to schedule and manage your posts. Lastly, be sure to establish a community page. It's easy and quick to do and while you can take your time in fleshing out the page as you desire, creating a page is far from a time consuming venture. The number one tactic with Facebook is to keep at it. Keep posting and using Facebook to chat with potential and current customers and use Facebook as a resource for reaching out and responding to negative and positive feedback.
Instagram
Instagram is an app created by Kevin Systrom and Mike Krieger in 2010. Acquired in 2012 Instagram is now a Facebook company and some aspects of your average Instagram account can be managed directly from within Facebook. Instagram is first and foremost a visual sharing app and works much the same way as other popular social media networks by allowing users to upload and share content, follow users and have their account followed. Users can create Stories, post cute pseudo-animated images and apply one of many popular filters for cute, almost content redefining results.
How can Instagram be used to market for small business owners?
Instagram is one of the top 5 most downloaded apps in the world so taking advantage to advertise to its user base has a lot of potential. Instagram is still in its infancy when it comes to using as a business tool for promotion, so it's important to become a user of the platform first and spend time getting to know your way around. Create a business account for your company and fill it with information and content in order to make it personalized and informative. You can take advantage of the power of Instagram by using it to promote limited time deals, advertise your latest products and services, announce business achievements, promote the company culture and as a way to showcase customers and services. Instagram's recently expanded small business related tools means that small business owners now have the ability to book and manage appointments and meetings directly from Instagram and Facebook, a great tool for those looking to easily handle reminders and appointments from one, easy-to-manage location. Lastly, Instagram can be a great tool for following what other users are saying about your company and to respond to them in kind.
Twitter
What's not to like about Twitter. While having seemingly been around forever, Twitter was founded in November of 2006 and serves as the most popular social media networking platform on the internet today. Primarily a communication tool that allows participates only 280 characters to express an idea or take part in a conversation (called Tweets). Twitter is primarily a platform meant for discovering interesting people, places, ideas and companies, allowing users to "follow" and "retweet" others' communications. Twitter offers participants the opportunity to build a brand or following (providing you remain active), post honestly and offer good quality content. Twitter represents a micro network of blogging, texting and messaging capabilities that people, brands and businesses take part in potentially quickly and easily.
How can Twitter be used to market for small business owners?
With so many social media platforms it's critical to identify those networks that potentially have the most to offer for your company's particular brand and products. Because of Twitter's wide range of users, Twitter is generally considered one of the main networks that small business owners should focus on. Once you decide what exactly you should be focusing on when promoting through Twitter, it should be somewhat straight forward to target your audience. Are you interested in using Twitter to primarily increase brand recognition? What about increase sales directly? Or perhaps you wish to use Twitter as a primary means of communicating with and responding to user feedback or complaints? Whatever your need, there is a viable way for using Twitter to further your business. You can use social monitoring for tracking what potential customers are saying about your products or brands. While monitoring your account you will also likely see tweets from Twitter users that are talking about words associated with your brand as an opportunity for reaching out for potential sales. Just like with YouTube, adding targeted videos to Twitter can have a generally positive effect and help to not only further your brand but also represent a way to increase sales directly. Do you have a blog on your website? Be sure to add snippets of your blog posts to your Twitter feed as a way of getting targeted traffic to your website that you can then funnel to your product pages.
Snapchat
More of a specialized platform, Snapchat was created initially and used primarily by pre-teens and teenagers. Today, it is one of the largest social platforms in the world, hosting more than 180 million visitors daily. Instagram for all intents and purposes looks and operates nothing like it did back in its early days. Founded by Evan Spiegel, Bobby Murphy and Reggie Brown, the core basics of Snapchat works by making any content or message you send to someone else available only for a short period of time before it auto-deletes. Initially meant to focus on the personal, private relationship between two people or a group of people, Snapchat at its core is meant to be a platform to encourage a more natural flow of interacting with others.
How can Snapchat be used to market for small business owners?
In plain English, because of the shear reach that Snapchat has. Snapchat reaches an amazing 41% of all US 18 to 34 year olds daily and more than 60% of all US 13 to 34 year-old smartphone users use Snapchat. You are hard pressed to find another platform or market that offers more potential. While Snapchat certainly is not your normal type of marketing opportunity it still is worth investing time and resources in. Snapchat has a built-in user base that doesn't seem to tire of using the social media platform and constantly craves new content. Using Snapchat's short-lived content can have its advantages. Offering discounts or specials that only last a short time are the perfect fit with Snapchat and because of the immense popularity of Snapchat, it's a great opportunity to share content, ideas, photos and videos that might not work or fit anywhere else. Got a special event or promotion you would like to advertise? Just be sure to check out Snapchat's ability to add and use Geofilters that easily allow for targeted promotions to a specified audience to organically advertise, promote and engage.
YouTube
YouTube is the old kid on the block. Around since the early internet days, way back in 2005 and is the undisputed king of video today. Created by three former employees at PayPal, today YouTube is a Google company, having been bought out by the search engine giant back in 2006. YouTube today is one of the most used platforms for small and large businesses and represents one of the easiest platforms to work with, a huge advantage especially for small business owners. With over 1 billion monthly visits and a whopping 17% of all internet traffic, there is little not to like about YouTube's potential as a marketing platform.
Why should small business owners use YouTube for marketing?
YouTube is the second most popular website in the world and while a tremendous amount of traffic comes through YouTube's internet doors, it's important that you have a marketing plan that works. Investing in good editing and video production equipment is important for success. You also need to know the best times to post your videos and the best days to post your content. Most people watch videos on YouTube on the weekend so be sure to accommodate accordingly. Posting on Saturdays and Sundays around 9 – 11 AM EST is a good strategy. Be sure to make your videos between 30 seconds and three minutes in length and make your video messages clear and concise with a clear call to action. Also, be sure to add your videos to your website to get the SEO or search engine optimization value. YouTube offers a very good analytics platform for helping to look at visitor use, which can also help with optimizing for future videos and promotions in general.
Pinterest
Pinterest started out, way back in 2010 as a repository for posting images, videos and comments of interesting things and ideas. Originally meant as a way of 'pinning' ideas and creating 'boards' for them, typically represented as images or a collage of images or videos that would inspire and hopefully convince to, as Pinterest CEO Ben Silbermann explained it, "go out and do that thing". Since then, Pinterest has been acquired by Facebook and Facebook's CEO Mark Zuckerberg and Facebook now has more than 250 million monthly active users. Like many others I was very content with Facebook but became intrigued by Instagram when so many others began commenting about the platform. I felt I should check it out too.
Why should small businesses use Pinterest for marketing?
In 2013 Pinterest overtook email, yes email, as a sharing medium, even surpassing Facebook itself. Pinterest is the perfect platform for displaying and promoting products, brand and messaging. Integrate Pinterest with your company's website and post, share and reach a content hungry audience creating your own pins and boards of your products. The immediate popularity of Pinterest is one of the best reasons to take advantage of what Pinterest has to offer small businesses. With Pinterest's popularity it is an obvious choice as a solution for helping to facilitate customer conversations, feedback, questions, reviews and more. Pinterest also has a vast network of businesses that get marketing features for promoting your products. It also can't be ignored that being able to tag your own products on other websites is a huge positive to using this platform. Lastly, offering the ability to let others pin and follow your own products on your website is fundamental to furthering your company's brand recognition.
Reddit
Reddit is the 5th most popular website in the US and a top 20 website world wide. Reddit is a collection of forums and sub-forums where people share news, images, videos, comments and posts about an unimaginably wide array of topics. Reddit is filled daily with incredibly unique and inspiring content that is more often than not the first place on the internet where something you might have seen turn viral on another social networking platform.
How can Reddit be used to market for small business owners?
Reddit is filled with people of a vast array of ages, likes, dislikes and spending habits. With hundreds of thousands of sub-forums it's very straight forward and simple to devise a marketing strategy around using Reddit's very powerful search feature to find potential customers. Every brand or product should have their own sub-forum on Reddit's platform and that means it's best if you, the business owner create and manage the sub-forum yourself. Keeping tabs on your Reddit sub-forum and posting regularly means you maintain a presence that can easily turn into a customer generating channel. Reddit is called the "Frontpage of the Internet" and that means a presence on Reddit can reach a much wider array of potential customers than nearly anywhere else online.
Twitch
Twitch is a massively successful live-streaming platform with more than 100 million active monthly viewers and has been on the streaming scene since 2011. Now owned and operated by Amazon, Twitch is first and foremost a video streaming platform that is mostly participated and watched by millennials. Millennials also overwhelmingly make up the majority of visitors on Twitch, with nearly 900 thousand of those daily visitors being female.
How can Twitch be used to market for small business owners?
Starting a stream or sponsoring a streamer can be a great way of getting your product or service in front of hundreds of thousands of eyes each month. Twitch is a platform that is not widely used for advertising at this moment, making it a great opportunity for savvy small business owners looking to reach a particular audience. With Twitch's built in high level of audience retention and user loyalty it's a platform that every small business owner should definitely look into.
LinkedIn
At its core LinkedIn is first and foremost a powerful professional social network designed to connect friends and colleagues to one another. LinkedIn currently sports nearly 240 million active members worldwide. Creating either a free 'basic' membership or paid 'premium' account gives small business owners a chance to showcase their company profiles and post personal and business blogs to a wide audience potentially.
How can LinkedIn be used to market for small business owners?
LinkedIn Groups offer a great opportunity to communicate with customers and potential customers and interact with them just like you would on any social network. LinkedIn is also one of the leading recruiting websites on the net. Creating an account on LinkedIn is quick and easy and having an account means you have the ability to target current and prospective clients and promote to them with ease. LinkedIn is the platform for networking and it's worth the effort for any small business.
This article shows that you don't have to spend a lot of money advertising online if you're a small business. You just need to know what services to focus on and the limitations each of these platforms provides in order to adjust your marketing initiative accordingly. As this article can confirm, the power of each of these platforms as a marketing tool lies solely in how you use each one. Some admittedly take more finesse than others but getting familiar with these platforms and learning how to use them can only add to the value of your marketing, regardless of your company's size.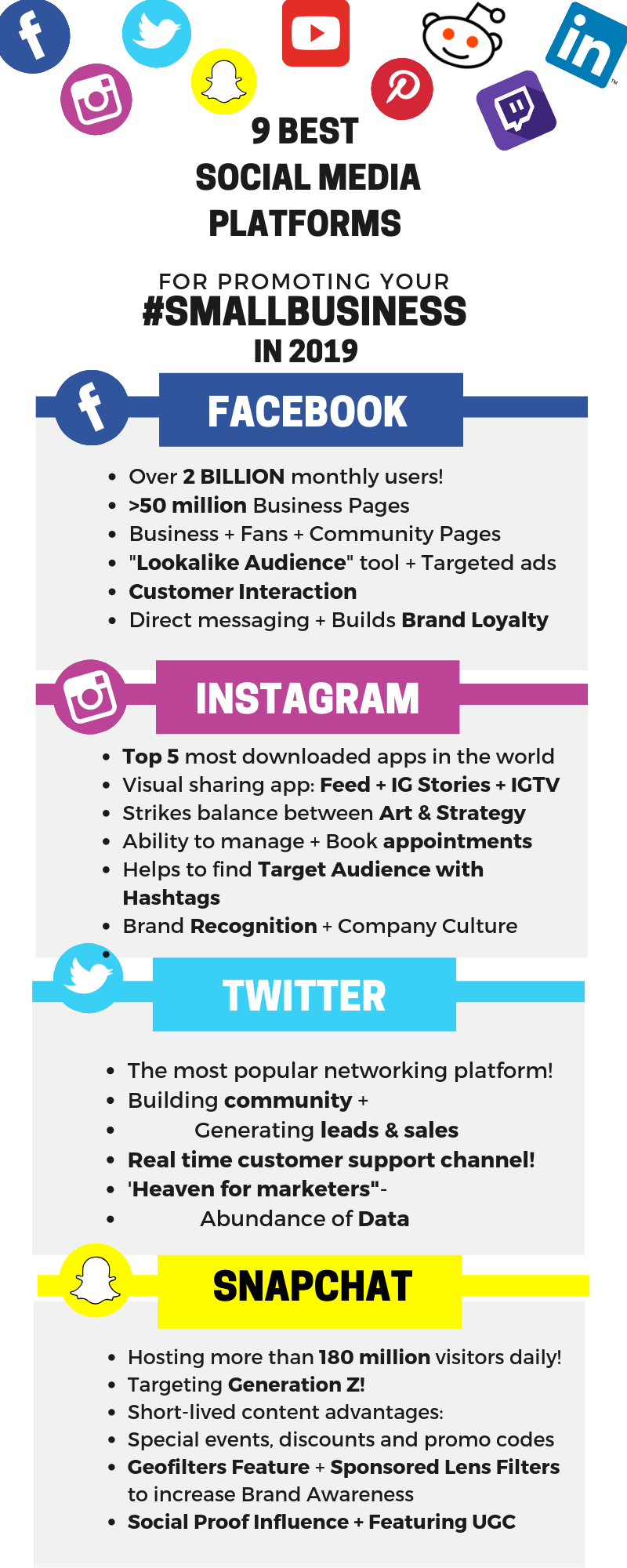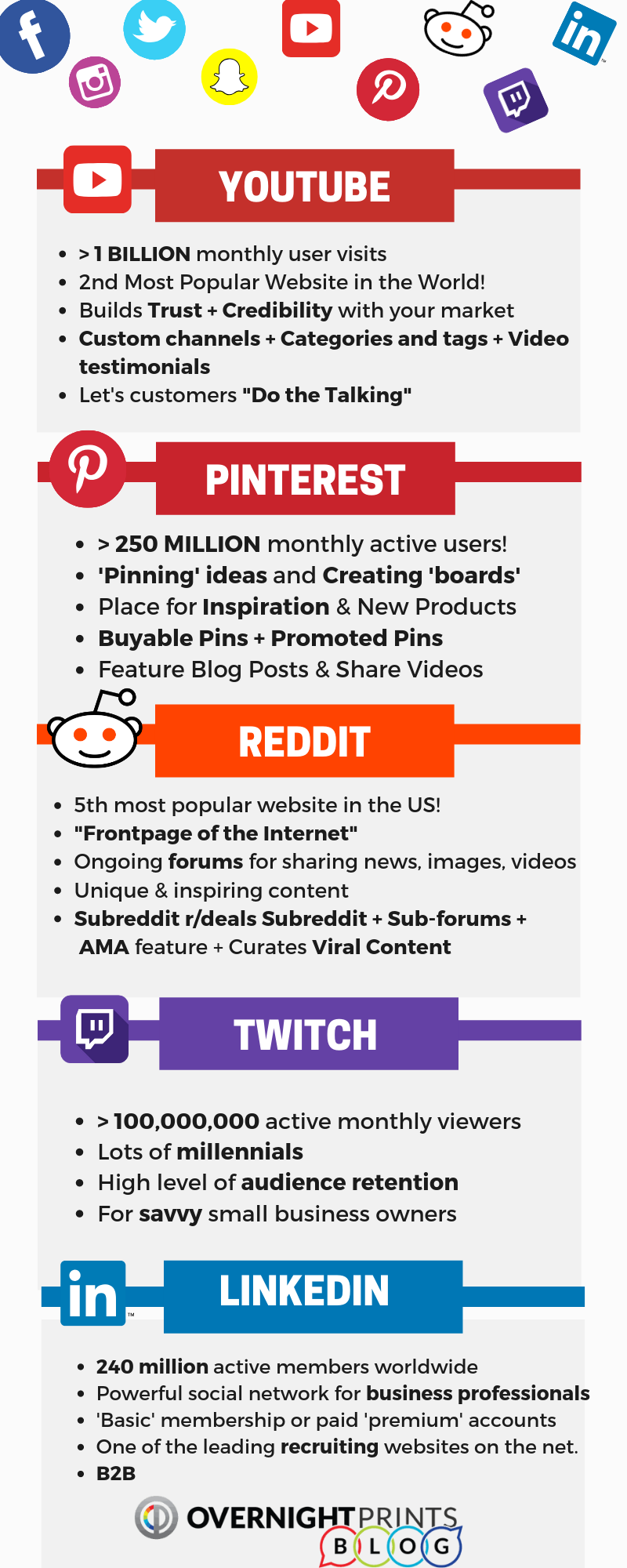 Small Business Week is May 5th through the 11th. Check out our Small Business Week deals by clicking the following link: overnightprints.com/small-business.
2019 NATIONAL SMALL BUSINESS WEEK AWARDS
SIX SMALL BUSINESS WEEK TIPS FOR SUCCESS