The postcard is a very versatile tool for artists, designers, and freelancers. Used for self-promotional purposes it can put you in touch with companies, galleries, agencies and design firms. The postcard "begs" to be lavished with your best piece of work. It's just aching to get "out there" and to start marketing you in a way that no other product can.
Self-marketing with postcards is certainly not a new thing. I can remember being a young creative straight-out-of-college in the UK, trying to get ad agencies to notice my ad work. I thought that I was being oh-so-very-clever by mailing my work examples to hundreds of companies!
In reflection, I think I was pretty smart by turning my best portfolio piece into a postcard mailer. It got me my first internship! At the time I was advised not to do this. I can even remember reading one of those "How to get a job in Advertising & Design" books that specifically mentioned that postcard mailing was frowned upon within the industry!
Thankfully, I ignored this advice and a large UK ad agency phoned me a week after I had sent my postcards out with the offer of an internship.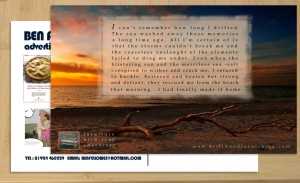 You might, right now, be thinking; "that's all very well, but why can't I just email my work to people?" The simple answer is that it's just not as effective. Firstly, there's a very good chance that your email won't even reach the intended person – it may get filtered directly into their junk folder. Secondly, a lot of directors, managers and other professionals won't open mail from sources that they don't recognize. And thirdly, people in agency, gallery, or other design related management positions get hundreds of these types of emails. Your work might be ignored, merely because the intended person is sick of receiving these types of emails!
A postcard on the other hand is more personal. It shows a certain amount of initiative and effort. By sending a postcard, you have already proven that you care enough about your work to go to the cost and effort of putting your designs on a postcard and mailing them. Also, in an age when executives are used to receiving masses of emails, postcards received through the regular post become a novel and memorable way to sell your artwork or services.
I don't believe that other types of correspondences such as, letters, or resumes are as effective either. When you send a letter or note in an envelope, only you and that person will see the item. When you send a postcard, multiple people are likely to glimpse it, as it gets passed around the office of the person that you sent it to.
Emailing your work just doesn't have the immediate impact that a beautifully printed postcard does. When the majority of your peers are using the fast, cheap, catch-all email tactic of trying to get themselves seen, your best bet might be to create a targeted postcard that helps you to stand-out from the crowd.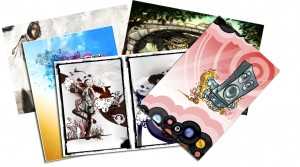 Creating my self promotion postcard
Download a start file template from OvernightPrints.com in Photoshop or other design program so that you have a postcard sized start file. This will be your postcard when it's printed out.
Photograph, scan, or use the digital file of your most popular piece of work and use it as the front image
Write some marketing copy to sell your services on the backside- remember to include your full contact details, links and other useful information. If you want to create actual mailers, then use this postcard design guide to help you create a standard postcard back
If you have an extensive list of agencies, galleries, or other people you want to mail to, you might want to consider setting up a mailing list through an online print company to help you deliver all your postcards. OvernightPrints.com, for instance, enables you to upload your postcard design, have it printed, and then have your prints sent to your list of recipients.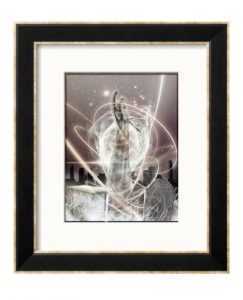 Selling your artwork on Postcards
If you would like to make money from your artwork or would like to share your work in a smaller form, then making art postcards is not a bad idea. Freelance artists often sell their postcards at art shows to people who don't want to spend money, but still want to own a piece of decorative art for their wall. After all, a postcard is just another type of print. Once framed, they are imbued with far more importance than the mere postcards that they are.
Putting your design or artwork is a great way for designers and artists to get seen.
Even some well-known and highly regarded artists use the postcard medium as a way to distribute their work to the public. Scott Blake, the brilliant "bar code" artist gives his postcards away for free at his site (he also sells them for a small fee).
Whether you're an artist who wants better exposure or a designer that needs to distribute their work effectively, postcards are superb marketing tools. It's a really inexpensive way of promoting yourself and your product.