We're celebrating the end of summer with the hottest designs submitted on Instagram. From July to August 2016, customers tagged
#pickmeONP
to enter their best OvernightPrints products into our Endless Summer Contest. Between original hand paintings and imaginative branding concepts, it was hard to choose a single top design. But we narrowed it down to a few of the most noteworthy submissions.
Congratulations to Jonquel Norwood (
@jonquelart
) who submitted a novel business card design featuring hand-drawn caricatures on double-sided, 2″ x 6″
bookmarks
featuring a luxurious satin matte finish.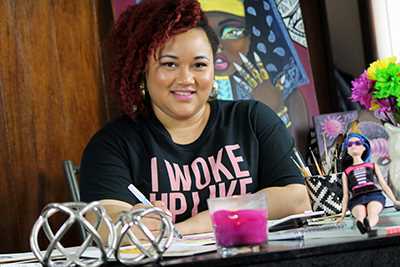 Norwood is a New York City-based illustrator and textile designer who specializes in plus size fashion. Showcasing her drawings on business cards not only exhibits her artistic abilities, but also adds personality to Norwood's marketing materials.
The entrepreneur uses both traditional and digital techniques for her custom illustrations. Hand-drawn patterns and other fabric material are digitally applied as an overlay on scanned images of caricatures sketched in pen ink.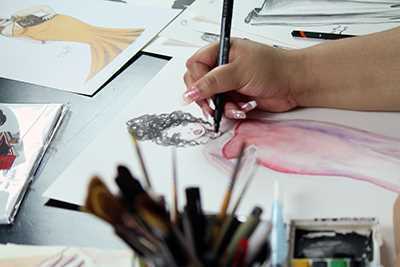 "I consider myself a 'hybrid' artist. First, I create a detailed line drawing in either ink or watercolor, then I scan the black and white image into Photoshop for coloring," she said. "Depending on what it is, a complete full-color illustration can take 3 to 8 hours."
OvernightPrints' high quality and competitive pricing is what attracted the fashion designer to try out a bookmark as a business card. Her innovative use of the print product effectively provides Norwood with a larger canvas on which to flaunt her artistry, adding to the creativity and originality of her business card design.
"I first got the idea to use bookmarks as business cards back in college. I go a lot of networking events where business cards are constantly being shared. When I saw [OvernightPrints'] bookmarks, I knew I was on to something. The pricing was affordable and the quality unbeatable," Norwood explained. "Because of its size, you can't simply tuck it into your wallet; you have to hold and examine it. Also, the extra length lets me be more creative with the artwork I choose."
Norwood began changing out her images periodically when she learned that her cards were being collected for the custom creations and high quality print.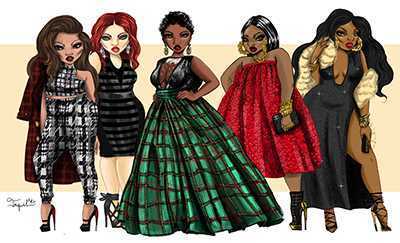 The purpose behind Norwood's full-figured illustrations and apparel designs is to promote body positivity among women. Her artwork has even been reposted on social media by celebrities like singer Rihanna. Norwood's work has been shared by online platforms and podcasts, such as Bustle.com, The Curvy Fashionista and Dressing Room 8.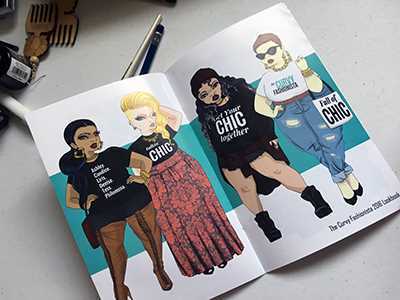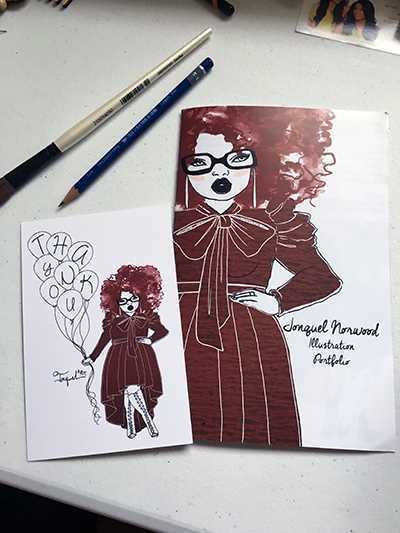 To see more of Jonquel Norwood's artwork, follow @jonquelart on Instagram.
Images courtesy of jonquel.com.
FEATURED DESIGNS
Images courtesy of customartbyalexis.com.
HONORABLE MENTIONS
Other notable designs include Bon Temps Collective (@bontempscalligraphy) whose custom prints are unique, one-of-a-kind pieces worthy of an art gallery. Amanda Laurel Atkins (@amandalaurelatkins) uses acrylic for her colorful paintings of female subjects from different eras.