To celebrate the 2017 holiday season, we hosted the #Printmas Art & Design Challenge in search of the most festive themed cards. The social media contest ran from Dec. 7-31 on Twitter, Facebook and Instagram. Contestants tagged their holiday designs with #Printmas for a chance to win $50 in Overnight Prints products.
Graphic designer and illustrator Alex Tebow from Salt Lake City, Utah, won for an originally designed family Christmas card. The holiday postcard was chosen for its creativity and originality in both design and photography.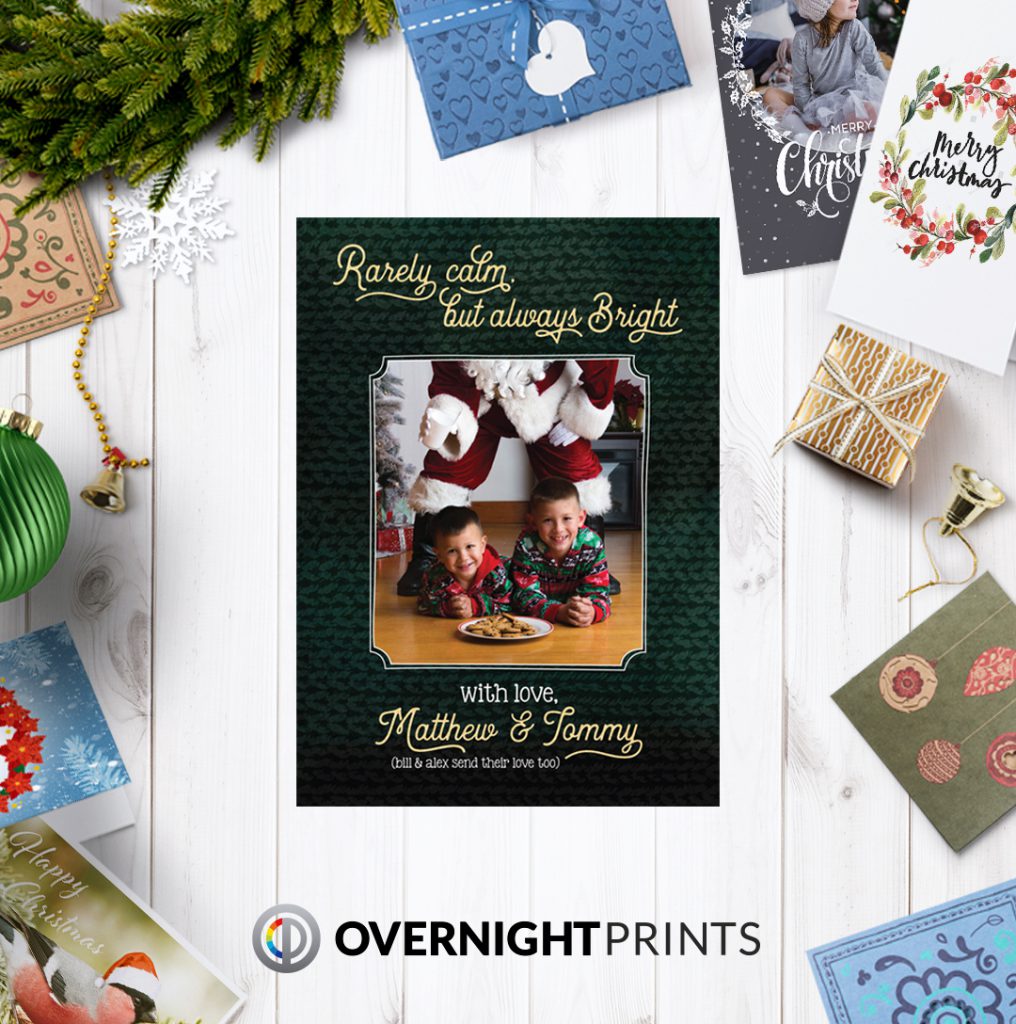 As part of the Tebow family tradition, the children take photos with Santa Claus for their mom to design an annual Christmas card. For this past year, Alex donned the red and white velvet Santa suit, a clever trick from FotoFly Studios to have parents play the part of Old Saint Nick and keep younger kids at ease during the photo shoot.
The 5×7 double-sided postcard in satin matte with rounded corners featured her two sons, Matthew, age 3, and Tommy, age 8.
"Designing our family's holiday card each year is the highlight of the holiday season for me!" Alex exclaimed. "Since I usually do graphic design work for others, I look forward to creating something more personal. As my kids get older too, they get to be more involved in what goes out to family and friends."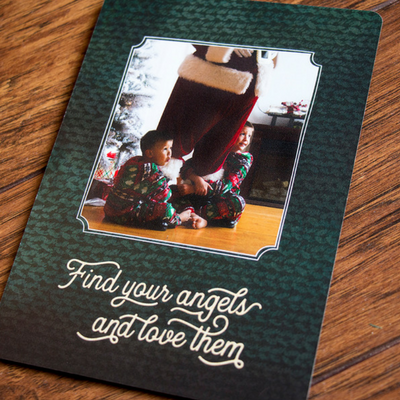 Older son Tommy, who loves to match with younger brother Matthew, chooses the matching patterned pajamas, this year going with seasonal red and green outfits. For their 2017 card, Tommy also picked out a forest green color for the card design. Adding a festive feel, mom Alex chose a unique knit texture pattern she discovered on a sweater.
"It's always fun to design using new textures that are different from the always popular chalkboard design," she explained.
The message reads, "Find your angels and love them. Rarely calm, but always bright. With love, Matthew & Tommy." Parents Alex and Bill joke that the annual photo only features their sons with the line "(Bill and Alex send their love too)."
For her $50 prize, Alex plans on creating new business cards for her freelance business. Alex Tebow Designs was born 10 years ago when the designer and illustrator helped other brides in a wedding planning forum create DIY invitations for their own nuptials. Turning into a full business, she now designs holiday cards, personal announcements, wedding and party invitations, logo designs, apparel and original illustrations for clients.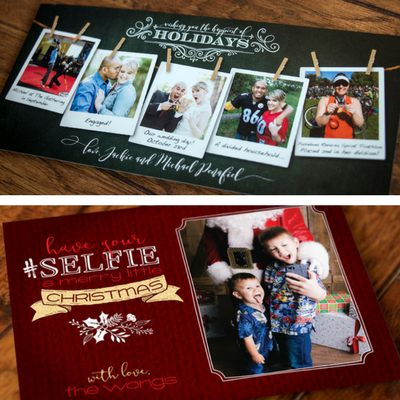 Based in Salt Lake City, Alex creates print products for design clients all over the U.S., including family and friends in her hometown of San Francisco. The freelance designer, whose clientele largely comes from online networking groups for small businesses, is currently building a social media following on various platforms including Instagram (@alextebowdesigns).
Throughout the #Printmas Challenge, contenders tagged photos of traditional printed double-sided postcards, bi-fold greeting cards and digital Christmas cards. Entries included tropical beach Christmas portraits, a humous illustration of a cat knocking over a Christmas tree and "The Incredibles" themed family portrait.
For more print and design contests, follow Overnight Prints on Twitter at @overnightprints and Instagram at @overnightprints.