I've touched on this subject before in one of my previous posts, but after a recent conversation with an IT friend of mine, who simply cannot believe that people still send postcards via snail mail in this digital age of email blasts and e-marketing, I'm still wondering if it's not more effective to send a traditional postcard promotion? Because of such a proliferation of email marketing, I truly believe that small businesses should look more towards the "old fashioned " marketing method of physically delivering a business message with a genuine postcard ! It may mean more work in the long run but the rewards can be noticeably better.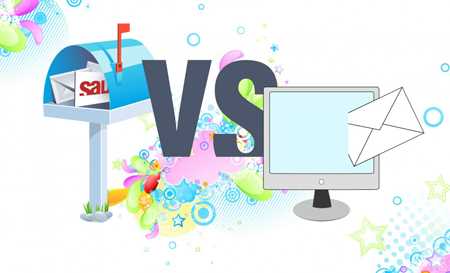 There is the obvious argument that it's not very eco-friendly to send hundreds of post cards through the post, However, I believe that if you use a conscientious print company that has put sustainable print practices into place, then I think it's a perfectly valid and responsible way to market yourself.
An e-postcard is dramatically lower in cost, and much less of a hassle. Here are the major reasons why an e-postcard makes sense:
• They generally don't require as much design work – it's a lot easier to create a quick email blast
• With just one click of your mouse you could easily send one postcard to hundreds, even a thousands of recipients!
• No messing about with post offices and addressing individual postcards
However, people just don't get that special feeling from an impersonal e-postcard. There's something brilliant about getting a real postcard in the mail – even if it's a promotional one! Personally, I believe that there are many more reasons to choose traditional postcards for your promotions. The advantages are as follows:
• You can't delete a postcard sent through the mail – it may get discarded but the likelihood is that it will at least get a viewing! (A postcard can't be filtered into a persons trash without them seeing it !)
• Printed postcards show initiative– if you're sending your postcard to a customer or client, they will be far more appreciative that you took the time, effort, and cost to design the postcard and get it printed and shipped to them!
• It's more memorable – business owners and customers are used to getting thousands of e-promotions. A traditional postcard stands out
• Unless you know HTML or CSS, it's really difficult to create a proper e-promotion yourself. You may have design skills but coding skills are another matter altogether (also, if you've never created an e-promotion before, you'll need image hosting and other web services!)
• Whether you're mailing them yourself, or you invest in a direct mailing service to send your postcards, it forces you to be create a more focused campaign. Because of costs, it is necessary to target customers more and streamline your efforts (print companies such as Overnight Prints can provide really effective customer lists for your industry and preferences)
• Printed postcards are delivered directly to the recipients. There's no problem with servers not working or email providers being down – you don't need a computer or electricity to be able to read your printed postcard!
• If the designs really cool or beautiful, your printed postcards may be put behind a magnet on your fridge and used as decoration (particularly if you're sending Christmas card promotions or other holiday wishes)
• You can actually see and feel the texture, quality and great image in your printed postcard. You can't hold or feel your e-postcards!
In my personal experience, I have used postcard mailers to send my portfolio to specific agencies and people. The biggest benefit of doing this was that not only did the recipient see it, but also most of the people in that location saw it as it was handed around that office! A great-looking postcard has a very organic promotional effect.

Whatever your business is, I don't think there's a more effective way to promote your company message than a postcard. They are a superb marketing tool. It's a really inexpensive way of promoting yourself and your product.